In the modern world, sunglasses have long gone beyond a fashion accessory. Wearing them at ski and seaside resorts, where the sun's rays are bright and reflective surfaces are large, is a must. But even in ordinary life in the urban environment, most people prefer to protect their eyesight with them.
Why it is important to use sunglasses
Sunglasses are an accessory to protect your eyes from harmful radiation, reducing the risk of diseases caused by the effects of intense sunlight on the retina and lens of the eye.
Good sunglasses:
Block harmful ultraviolet radiation. UV radiation is one of the causes of cataracts and other diseases.
Reduce the amount of light reaching the retina. Intense sunlight causes the muscles of the eye to naturally contract, causing strain. Prolonged exposure to the sun without protection can cause increased tearing, fatigue and headaches.
Reduce glare from reflective surfaces.
Help fight premature wrinkles by relaxing the eyelid muscles.
Protect against mechanical damage to the eye by foreign objects.
In order for sunglasses to perform their functions and justify the expectations, their purchase should be treated responsibly: familiarize yourself with the characteristics, choose a comfortable frame and make a purchase in a trusted store.
Best places to buy sunglasses
To choose a site where to buy sunglasses should be approached with the same care as to the choice of the model itself. So that the purchase was useful, and the money was not wasted. When choosing a sunglasses store, you should analyze the pricing policy of the store and your own budget, delivery time, the possibility of exchange and return, the availability of online fitting with a webcam, the technical characteristics of the presented models of sunglasses, as well as the warranty from the manufacturer or retailer. We have analyzed the market and selected 13 best places to buy quality sunglasses online.
Ray-Ban
Ray-Ban is one of the world's most famous brands. The company offers both classic models that will never go out of fashion and a line of its own developments. In addition to design, Ray-Ban glasses are characterized by excellent quality, thanks to the use of advanced technologies and innovative solutions. Glasses of this brand are in demand among politicians and movie stars.
Bestsellers:
Price: from $100.
Delivery: 4-5 working days with the possibility of on-site fitting.
Refund: 45 days.
Protection: 100% UVA and UVB protection.
Warranty: 24 months from the date of purchase.
Costa Del Mar
The main feature of the Consta Del Mar brand is the high quality polarizing coating. The company was founded by two fishing guide friends whose eyesight suffered from the intense reflection of light from water surfaces. Unable to find decent eyewear on the market, the friends started their own company, focusing on polarization and advanced technology in the production of comfortable, wearable and lightweight polymer frames. Top sellers are
Price: from $170.
Delivery: 7-9 business days.
Refund: 30 days.
Protection: 100% UV protection, absorbs HEV light.
Warranty: 24 months from the date of purchase.
Zenni Optical
The company Zenni specializes in glasses for vision correction, as well as sunglasses models. The distinctive features of the store are a large assortment (more than 5,000 variants) and affordable prices. The cost of basic models varies from 6 to 50 dollars. For an additional fee, you can apply a polarizing coating, UV protection, additional tinting or mirror coating to the glasses. The website offers the option to try on glasses online. To do this, you will need to upload your photo and specify the distance between the pupils. Company favorites:
Price: from 6$.
Shipping: 3-14 business days.
Warranty: 30 days
Protection: Transitions Signature GEN 8 lenses block at least 20% of harmful blue light indoors and over 87% outdoors. Transitions XTRActive polarizing lenses block up to 35% of harmful blue light indoors and up to 90% outdoors.
Warranty: 12 months from the date of purchase.
Oakley
Oakley is a well-known manufacturer of eyewear for professional sports and active recreation. In addition, it offers a range of tactical models for the army and police. Oakley's signature sunglass lenses are made of impact-resistant polycarbonate and the frames are made of durable polymer. The surface has an anti-fog coating, which fights fogging, as well as protection from harmful sun rays of different spectrum. Navigation of the online store allows you to quickly view new models, as well as make a selection of options for different types of activities from gaming to golf. You can match glasses to your face shape by uploading a photo. Best sellers:
Price: from $78.
Price: from $78.
Refund: 30 days.
Protection: 100% against UVA/UVB/UVC and harmful blue light up to 400 nm.
Warranty: limited lifetime warranty from the manufacturer.
Eyebuydirect.com
EyeBuyDirect is another representative of the "supermarket" of glasses for buyers with different budgets. The price starts at $16 and goes up depending on the type of lenses and coatings. The company presents both prescription glasses and sunglasses models. The best-selling models are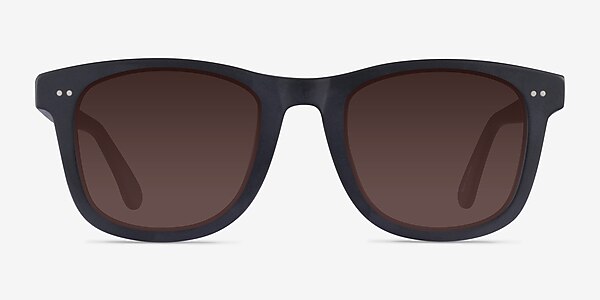 Price: from $16.
Shipping: 2-14 business days.
Refund: 14 days.
Protection: transition lenses have UV protection.
Warranty: 12 months from the date of purchase.
Otis Eyewear
OTIS was founded more than 20 years ago in Australia. "Australia, salt and sunlight are part of our DNA", – this is how the creators of the company write about themselves. Sunglasses from this brand are a combination of durability, environmental friendliness, technical innovations and corporate style. All models are equipped with lenses made of mineral glass. This material is more resistant to scratches and does not cause optical distortions. In addition, mineral glass is made of ecological materials such as sand and soda ash and is recyclable, unlike plastic analogs. Best sellers:
Price: from $150.
Shipping: 2-14 business days.
Refunds: 30 days. Any purchases made with a discount are non-refundable.
Protection: 100% protection against harmful UV rays and a high level of protection against sun glare.
Warranty: lifetime.
Warby Parker
Warby Parker's core mission is to produce affordable eyewear for everyone. In order to reduce the price without losing quality, the company has emphasized non-traditional sales channels, search for alternative materials and direct cooperation with customers. Each model can be tried on by turning on the camera of your phone or computer. The virtual model organically adjusts to the image of the face even when you turn your head. Such a try-on gives the opportunity to quickly decide on the choice. Top sellers:
Price: from $95.
Delivery: 5-10 business days.
Refund: 30 days.
Protection: blocks 100% of UV rays.
Warranty: 6 months scratch-free warranty on prescription lenses.
Maui Jim
Maui Jim sunglasses are well known for their polarized lenses with 100% anti-reflective coating, which successfully take on reflexes on both the outer and inner surfaces. The ergonomic, lightweight frames are comfortable to wear and can be customized to fit any face type. The surface of the lenses is coated with an additional protective layer resistant to scratches and damage. The best-selling models:
Price: from $188.
Shipping: 2-10 business days.
Refund: 30 days.
Protection: all Maui Jim sunglasses feature patented PolarizedPlus2® lens technology, which provides comprehensive UV and HEV (sun blue light) protection and is recommended by the Skin Cancer Foundation.
Warranty: 2 years.
Persol
Persol is a true Italian classical brand with more than 100 years of history. The lenses of this brand of glasses are made of light, durable material – silica. The frames are made of cellulose acetate. The fastening system is made in the form of an arrow – the company's trademark. Some models have polarization spraying. In addition to classic sunglasses, here you can buy folding models. Try-on online is available with the help of a virtual mirror. Best sellers:
Price: from $126.
Delivery: 5 working days.
Refund: 45 days.
Protection: some models have polarization coating.
Warranty: 2 years.
Glassesusa.com
Multi-brand online store of optics for vision correction and sunglasses, the page of which is visited by more than 130 thousand people daily. A convenient navigation system, online try-on, as well as reviews from other customers will help you make a choice on the site. The store offers a huge assortment of both budget and premium models of well-known brands. Top sellers:
Price: starting at $19.
Delivery: 3-10 business days
Refund: 14 days
Protection: some models do not have information on UV protection.
Warranty: 30 days
Gucci
The famous brand of luxury clothing and accessories offers its range of sunglasses. Emphasis is mainly placed on the design of frames and lenses, as well as recognizability among the connoisseurs of the brand. Gucci sunglasses are described as "sunglasses with character" and "high-end eyewear". Each pair comes with a corresponding protective case and care wipes. Best-selling models:
Price: from $495.
Delivery: 10 working days
Refund: 10 days
Protection: 100% UVA/UVB protection.
Warranty: 2 years
Amazon
Amazon is the most famous multi-brand hub with a huge assortment, fast delivery, convenient filtering and model rating system. On the site there is an opportunity to choose a seller by price, delivery conditions and rating. Best Selling Models:
Price: from 0.61 USD.
Shipping: 1-5 business days.
Refund: 30 days.
Protection: depends on the manufacturer.
Warranty: depends on the manufacturer.
Nordstrom Rack
Nordstrom Rack outlet is one of the leaders in American retail. It offers a large selection of sunglasses from past collections at discounted prices, those that were not sold in the main chain of Nordstrom department stores. During sale periods, discounts on some models can reach 90%. Among the filtering options, you can also choose the size of the discount. Top sales include 
Ray Ban Standart Original 58mm Aviator Sunglasses for $171
Price: starting at $6.
Delivery: 1-10 business day.
Refund: 40 days.
Protection: depends on the manufacturer.
Warranty: 12 months.
Tips for buying the best sunglasses you can buy online
When choosing sunglasses, you should pay attention to such factors:
Availability of maximum UV protection.
Anti-reflective coating.
Weight of frames and lenses.
Seating and adjustability.
The material of the case and glasses, as well as their suitability for the types of activities during which you plan to wear glasses.
Choosing the best sunglasses is different for everyone. It is important to understand that expensive brands with maximum protection cannot be cheap. This means that you will have to pay an appropriate amount of money for good sunglasses. The best places to buy sunglasses offer a convenient system of model selection for different types of faces with the help of a webcam, as well as the possibility of returning the glasses in case the buyer is not satisfied with the choice made.
FAQ
What should you look for when buying sunglasses?
When buying sunglasses, you should pay attention to the technical characteristics of the model, the presence of protective coating, as well as the reputation of the store that sells them. The same model of classic glasses can be presented on different sites at different prices. The main thing is to make sure that when buying sunglasses on sale, you buy the original.
Is it profitable to buy sunglasses online?
Yes, it is profitable, as the best places to buy sunglasses online regularly hold sales and offer favorable discounts. In addition, the price online is often lower because the price does not include store rent and the salary of the salesperson at each outlet.
How much should you spend on good sunglasses?
Good sunglasses that fulfill all their protective functions cannot be cheap. A low price may mean that in front of the buyer is a fake. The lower limit starts at 50 dollars. In order to save money when buying, it is worth paying attention to less well-known brands, as well as buying sunglasses during sales periods and in outlet stores.